As the pandemic pomp and COVID circumstances dissipate, Cornell's business incubators officially graduated five startup companies – formally known as the Class of 2021 – on June 7 and helped to put them on the fleet highway to success.
Lou Walcer, director of the Kevin M. McGovern Family Center for Venture Development in the Life Sciences, and Robert Scharf, director of the Praxis Center for Venture Development, conferred certificates to the leadership of the freshly minted graduating groups: Ava Labs, Exotanium, Halomine, Sonder Research X and Zymtronix.
"Having incubators on campus is an important element of our innovation ecosystem. They take university discoveries and get them to have impact by turning them into products and by turning them into services from which society can benefit," said Emmanuel Giannelis, vice president for research and innovation, in his keynote at the graduation ceremony.
Founded in 2008, the McGovern Center incubates Cornell life science startups, while the Praxis Center – which began in 2019 – focuses on developing and strengthening business plans for young engineering companies.
"Our incubators find ways to take these nascent technologies and early discoveries," Giannelis said, "and nurture them through that very difficult path – which requires also the determination of entrepreneurs.
"I'm a passionate believer about the importance of Cornell not only being a top research university, but also to be a top innovation university," he said, "since innovation is basically the other side of the same coin."
The McGovern Center and the Praxis Center will graduate their Class of 2022 later this fall.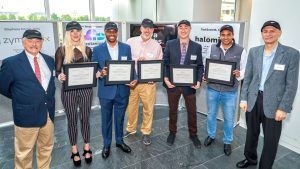 The 2021 graduating companies are:
Ava Labs, Inc. joined the Praxis Center in November 2019. Ava Labs is a blockchain platform developer that reduces the financial expenses related to deploying capital. Its blockchain provides higher transaction speed and simplifies trading of assets compared to older blockchain technology.
The company was founded by Emin Gün Sirer, CEO, a former Cornell associate professor of computer science, while founder Maofan "Ted" Yin, M.S. '19, Ph.D '21, is chief protocol architect; founder Kevin Sekniqi, M.S. '18, is chief operating officer; and John Wu '92 is the company president. Ava Labs products are based on research co-authored with Robbert van Renesse, professor of computer science in the Cornell Ann S. Bowers College of Computing and Information Science.
Carrianne Fairbairn, executive assistant, accepted the certificate.
Exotanium, graduating from Praxis, develops cloud-resource optimization that uses artificial intelligence and machine learning to help other companies reduce spending – by as much as 90% – in the cloud.
Hakim Weatherspoon, professor of computer science (Bowers CIS), is the company CEO. He founded the company in 2018 with fellow Cornell researchers Zhiming Shen, Ph.D. '17, the chief technology officer, and van Renesse, chief scientist.
Halomine develops novel disinfectant products that increase the longevity of chlorine-based disinfectants. Early in the COVID-19 pandemic, the company received Cornell's permission to conduct research in the McGovern Center labs in Weill Hall to find ways to help alleviate pandemic-related problems.
The technology grew from collaboration between Minglin Ma, associate professor of biological and environmental engineering in the College of Agriculture and Life Sciences, and former postdoctoral researcher Mingyu Qiao.
In 2019, the researchers partnered with Ted Eveleth, MBA '90, to launch Halomine. The company is graduating from Praxis. Qiao now serves as the company's chief science officer.
Sonder Research X, a biotechnology company in the McGovern Center, develops therapeutics for the detection, monitoring and treatment of eye disease and cancer. The company is now held by Aufbau Medical Innovations.
Sonder uses biological ways to efficiently deliver recombinant proteins into the sensory tissue of the eye and the retina.
The technology was developed by John T.G. Pena, M.D. '11, former assistant professor of ophthalmology at Weill Cornell Medicine and principal investigator at Dyson Vision Research Institute.
Zymtronix is a company that stabilizes proteins for a variety of industries. When the company joined the McGovern Center in 2014, it stabilized enzymes and aimed to clean up toxic water leftover from fracking. Today the company, led by Stéphane Corgié, CEO and chief technical officer, develops proteins for the food, flavor and fragrance industries – where precision enzymes are needed.