Emmanuel P. Giannelis, PhD, Advisory Council Chair
Vice Provost for Research/Vice President for Technology Transfer, Intellectual Property, and Research Policy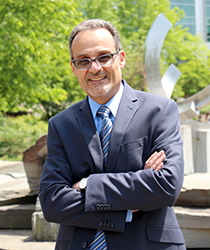 Emmanuel Giannelis serves as Vice Provost for Research and Vice President for Technology Transfer, Intellectual Property, and Research Policy. As Vice Provost for Research, reporting to the Provost, he leads the Research Division on the Ithaca campus. As Vice President for Technology Transfer, Intellectual Property, and Research Policy, reporting to the President, he is responsible for technology transfer, intellectual property, and research policy across all Cornell campuses.The Office of the Vice Provost for Research (OVPR) enables and advances Cornell research priorities, including research activities of Cornell colleges, schools, and research centers, institutes, and laboratories. The office advocates for researchers within the university, working with external agencies, sponsors, and government representatives; supports specialized research facilities and services for researchers; provides campus-wide research administrative support services; and facilitates major interdisciplinary research initiatives.
In his role as Vice President for Technology Transfer, Intellectual Property, and Research Policy, Giannelis, along with Cornell's Center for Technology Licensing (CTL), champions entrepreneurship and technology commercialization, supporting researchers and entrepreneurs as they bring scientific discoveries, technological innovations, medical advances, and new products to the marketplace for societal benefit to foster economic development within New York State and across the nation and to further Cornell's land grant mission.
Giannelis joined the Department of Materials Science and Engineering at Cornell in 1987, where he is currently the Walter R. Read Professor of Engineering. He received a BS degree in chemistry from the University of Athens (Greece) in 1980 and a PhD in chemistry from Michigan State University in 1985. His recent research focus is on design and application of nanomaterials for energy, biomedicine, and the environment. His research group is internationally recognized as one of the leading groups in nanocomposites.
Giannelis is a member of the European Academy of Sciences, a fellow of the American Chemical Society, and a fellow of the Polymer Materials Science and Engineering Division of the American Chemical Society. He received the Cooperative Research Award from the American Chemical Society in 2014. He was awarded a Doctorat Honoris Causa (honorary PhD) in July 2017 from the Institut National des Sciences Appliquées de Lyon, Université de Lyon.
Simon Allen
Associate Vice President for Asset Management
Simon joined Cornell in September 2018 as Associate Vice President for Asset Management, responsible for the Real Estate and Public Private Partnership activities for the University.
Previously Simon was Managing Director at Amundi Pioneer and head of their Global Private Equity Real Estate program, managing approximately $450m assets under management for various Institutional Investors. Prior to Amundi, he was a Senior Director in the Strategy Group for Motorola's Personal Devices business.
Simon has a Masters of Environmental Management from Duke University, a Masters of Business Administration from Warwick Business School and a Bachelor of Science (Honors) in Urban Estate Management from the University of Westminster in London.
Matthew DeLisa, PhD, Advisory Council Vice Chair
Professor, Director of the Biotechnology Insititute, Director of NYSTAR Center for Advanced Technology (CAT)
Matthew DeLisa received his B.S. in Chemical Engineering from the University of Connecticut in 1996; his Ph.D. in Chemical Engineering from the University of Maryland in 2001; and did postdoctoral work at the University of Texas-Austin, Department of Chemical Engineering. DeLisa joined the Department of Chemical and Biomolecular Engineering at Cornell University as an assistant professor in 2003. He was promoted to associate professor in 2009 and to professor in 2013, at which time he was named the William L. Lewis Professor of Engineering. He also recently served as a Gastprofessur at the Swiss Federal Institute of Technology (ETH Zürich) in the Institut für Mikrobiologie.
Matt's research interests include bridging fundamental biological and chemical concepts with new tools in protein engineering for investigating and modifying living cells, for discovery, design, and production of useful products and processes in biology and medicine.
In 2019 Matt accepted the positions of Director of the Institute of Biotechnology and Director of the Center for Life Science Enterprise, one of NY State's Centers for Advanced Technology. He brings a wealth of experience in biology and engineering, teaching, research, and entrepreneurship in the life sciences.
Lou Walcer, Advisory Council Secretary
Director, Center for Life Science Ventures
Lou Walcer was appointed in June 2011 as the first Director of the Center for Life Science Ventures at Cornell University. Lou came to this role with a long track record of building and launching new products and new ventures as a Marketing/Business Development/New Product Development Director and Consultant to Merck, Schering-Plough and Wyeth; as Officer, and Consultant to many Biotech/Medical Device companies; as President of the medical device drug delivery company Medimop USA, and as a Consultant to and Senior Commercialization Officer at Cleveland Clinic Innovations.
Lou earned a B.A. degree from Cornell University's College of Arts & Sciences, and a Master of Business Administration from New York University's Stern School.